Is it time to start thinking about holiday neighbor or group gifts? If so, check out these great ideas! And don't forget to personalize them!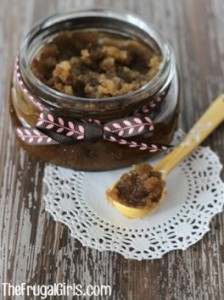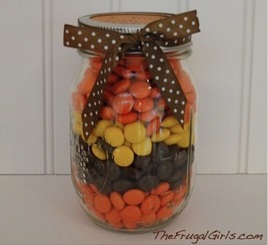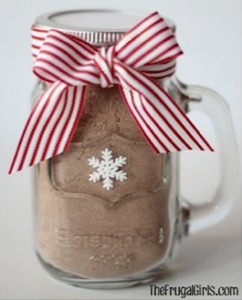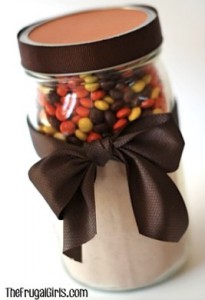 Canning jars can be used for other things besides flower vases. As scary as it sounds, it is coming to the point of the year when people are starting to think of great group gifts for the upcoming holidays. (Dare one say Christmas?) One of these group or neighbor gifts can be to create large quantities of homemade recipes that only require adding minimal liquids or perishables to make yummy homemade treats. The benefits of making these is that not only do you get to let people sample your recipes, but their homes will start to smell of fresh baking for the holidays. Examples for these homemade canning jar gifts may include (but, of course, are not limited to): hot chocolate, wassail or chai mixes, candy in a jar, cookie or cake mixes, or even a good sugar or salt scrub.
And don't forget that those canning jars don't just decorate themselves! While a canning jar itself isn't something spectacularly beautiful, by adding satin ribbon to compliment the contents of the canning jar, you can really create something special. Add a personalized ribbon with a "Thank You" or "Happy Holidays" and let that neighbor know you really care. Or, add any message you desire to your personalized ribbon.
So, don't forget to throw in your own personal touch by adding embellishments to your canning jars. Not only are you sharing your recipe and the joy of homemade goodies with those around you, but you can also create your own personal flair with these gifts. Go to it; decorate those canning jars however you want! Just don't forget to use some personalized ribbons to really make these wonderful gifts really special and memorable.