Let us help you spruce up your canning this harvest season!
Why can't your harvest and custom ribbons go hand in hand? With these simple ideas, personalized ribbons help your canning this year with going that extra mile. Whether you've won that first place award ribbon at a county fair or are just giving away a simple gift, custom ribbons are perfect for decorating your favorite, or famous, harvests.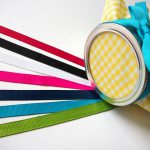 The easiest way to create a personalized masterpiece is an old canning jar and a quick piece of personalized scrap ribbon. Simply wrap your ribbon around the center or lid of your canning jar, and secure down with a bit of hot glue. Or, fasten the ribbon by tying a pretty bow. It's that simple!
While your canning jars are not something spectacular to look at, by adding these personalized ribbons to compliment the canning jar's contents, you can create something extraordinarily unique. Add a custom ribbon with your name or the date you canned the goodness inside. This personalization also makes for great seasonal and neighbor gifts.
Using personalized ribbons is the perfect way to label your canning.
Another great way to make your canning jars recognizable is to use a rosette ribbon with the streamers cut off. Just attach the rosette to the top of jar's lid and voilà: instant and personalized labeling!
Whatever your harvest is, from pickles and beets to peaches and jams, your jars are sure to stand out at your next county fair. Or, even on someone's counter at home! And with the personalized ribbon, whoever receives, or purchases, your home-made goodies will remember who made them.
So, don't forget to throw in your personal touch by adding embellishments to your canning jars. Create a personal flair while sharing your recipe and the joy of your homemade goodies with those around you. Go to it; decorate those canning jars however you want! Just don't forget to use some personalized ribbons to make these beautiful gifts unique and memorable really.