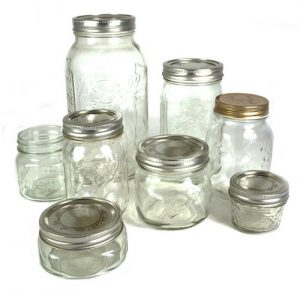 From unique vases to preserving your harvest, canning jar value isn't complete without the help of personalized ribbons. Nowadays everyone is looking for ideas on how to reuse and recycle everything they can. From paper and plastic to tires and clothes, everything seems to have a secondary use and value. And canning jars are no exception.
While we don't have all the answers for what these jars can be used for, we do know how to step up the game for using them to add value. And our answer is ribbons! So, here are a few excellent and creative ideas to get you going on reusing this great tool.
Decorating for Parties and Events
Whether you're planning a wedding or a small backyard barbecue, or you need to refresh your home decor, personalized ribbons and canning jars are the perfect combination. Use these beautiful tools to help bring out colors in the room or aid in a party theme.
Lots of people like to use small canning jars as a reusable cup alternative. So, add some decorative ribbons to them to help with the festivities. Fun messages like, "Let Freedom Ring" or "Stars & Stripes" are perfect for a summer barbecue. Wrap small strips of a ribbon roll around the middle of each jar, and your party guests will feel your patriotic vibe.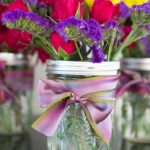 Canning jars are also a perfect substitute for vases. Just add water, your favorite flowers and matching personalized ribbons for a timeless look. These are perfect for a wedding centerpiece, especially when using the bride and groom's chosen wedding colors. Tie the ribbons into bows and glue them onto the lip of the jars. And use wider ribbons for a fuller look.
Housewarming gifts, holiday cookie recipes and DIY bath accessories are great gifts to put into old, clean canning jars. But here's to taking adding value and taking it one step further! Add personalized ribbons with ribbon rolls wrapped around the lips or centers of each gift you give.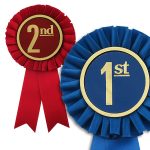 Do you often give out a prize-winning recipe or jam? Add a fun rosette ribbon to the top of each jar. First place ribbons are the perfect choice for this fun twist on using custom ribbons with canning jars. Just trim off the streamers and glue the rosette to the top of each jar. Feeling a bit, as they say, extra this time? Order a custom center button with a graphic or special text and your gift recipients are sure to notice the extra effort.
So, it doesn't matter what you put in your canning jar, just make sure you have a pretty bow on it! And custom ribbons are perfect for making every gift special.