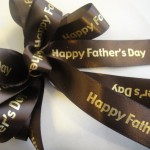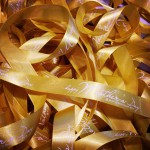 Two of the year's most important holidays are right around the corner. While commercialism has successfully capitalized on Christmas, Halloween, Easter and many other holidays, Mother's Day and Father's Day have yet to really hit that commercial mark. They have, however, given us a good sense of gifts that we can give to those we love and call our parents.
These gifts have such a large variety to them that the sky is the limit. We are here to help you wrap them. Grab up a custom holiday ribbon roll and personalize it with your message. It can be a plain "Have A Great Day" to save from the actual specification of the day or, print a recipient's name on it. The best thing about continuous holiday ribbon rolls is that they never seem to end. Your creative mind is the only limit here. We have combined several ideas into our "Idea Gallery" on our website; here we only offer a few.
Find your mom that perfect flower bouquet and make it extra special by wrapping the stems or vase with your custom holiday ribbon roll. Or give her a single flower for that simple statement of "I Love you, Mom." A box of chocolates will look great when wrapped in a pretty bow that has the words "Happy Mother's Day" printed on it. There are many ways to use holiday ribbon rolls for Father's Day as well. Use the holiday ribbon to make your father a special tie card, or wrap up a present with your specialized message of love.
Whatever your choice, remember to get your order in soon so that it arrives well before these holidays! This way, when it comes time, you'll be ready with that wonderful, personalized surprise for that perfect parent in your life.