We all have them. Lanyards and lanyards of name badges and badge holders we have received over the years. We get them as we attend conference after conference. Whether these conferences were for our jobs or entertainment, we still all have at least a couple of these event name tags hanging around somewhere.
You only wear them while you are at the conference, so why do you still have them? Is it the lanyard that makes the name tag so special? What about the name tag itself? Do we cling to everything that has our name emblazoned on it? Or, is it simply because we want to remember what we did while at that particular conference or convention? Or maybe, it's because of all the RIBBONS AS FLAIR!

From cosplay to ancestry conventions, ribbons as flair is everywhere.
Badge ribbons are a tradition that started at sci-fi conventions. World Con (where the world's supposed first cosplayer was present), may have started this trend. To quickly identify the role of other staff members, World Con employees put ribbons on their badges that denoted positions such as "Dealers," "Artists" and "Guest of Honor." World Con attendees took notice and made their own, silly badge ribbons to share with fellow fans. Today, you can find ribbons being passed out at many Sci-fi conventions and Anime cons as well.

So what are they? Badge ribbons are little colorful, often shiny ribbons with a phrase printed on them and an adhesive strip to attach it to your badge or to another ribbon. The standard size is four inches by one inch and five-eighths. They can be custom ordered on many websites, and a pack of fifty can range from twenty-five to forty dollars. Depending on which site you use, the ribbons can be made in any color, with any phrase and any simple image.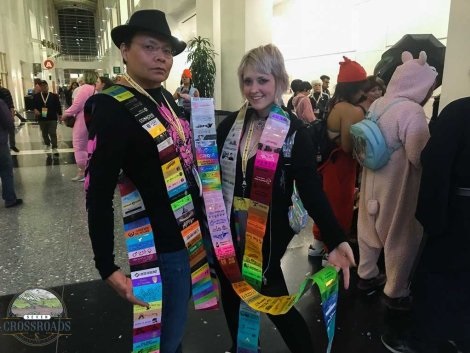 Much like the above author, we find that these little ribbons can cause excitement around any event booth. Everyone must have one to add to their name badge. And, with the nearly endless printing possibilities, these badge ribbons are the perfect marketing and networking tool to have at any event.
The Marketing and Networking Hack
Step 1: Design your custom ribbons with fun titles or witty sayings. Or, choose from our available stock titles.
Step 2: Pass your new badge ribbons out during any event to attendees and everyone who walks past your booth.
Step 3: Sit back and watch as more and more people show up to your booth, excited to learn about your brand and business.
Yes, it really is that easy! These little ribbons can do all of the talking for you and your business. No matter the event, badge ribbons are a must-have. From stock titles to going a bit crazy with full-color printing and fun messages, your ribbon flair is sure to stand out among the crowd.
Stack your ribbons as flair till your heart's content!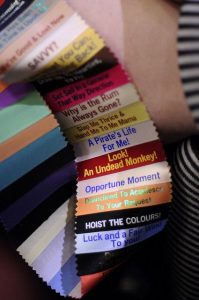 The best thing about these fun ribbons? You can stack them onto a name tag, a badge holder and even another ribbon! With the adhesive strip that runs along the top of every ribbon, these marketing tools just got even easier to use. Now, you really can sport all the ribbons as flair you want. Even if you are a presenter at an event, you can still add additional ribbons to the bottom of your credentials.
And, even if you don't have a name tag to stick them on, the tape allows you to attach these fun ribbons to a notebook, backpacks and so much more. You can literally spend hours collecting every ribbon. So, join in on the fun of ribbon flair by creating your badge ribbons today!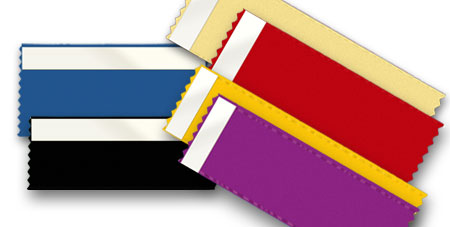 Let attendees come up with their ribbon flair with blank badge ribbons and a permanent marker or pen. They can add notes, titles and fun quips to show off their unique flair!