Pantone Color: What is it and how do we use it here at Coller Industries?
Every year since 2000, Pantone has released a "symbolic color selection; a color snapshot of what we see taking place in our culture that serves as an expression of a mood and an attitude." This color selection becomes more prominent throughout each year following the announcement, and is mostly seen in home décor, fashion and other similar areas.
And, for the first time in Pantone's history, they have released a two-color scheme as the Color of the Year 2016; welcome Rose Quartz and Serenity!
As consumers seek mindfulness and well-being as an antidote to modern day stresses, welcoming colors that psychologically fulfill our yearning for reassurance and security are becoming more prominent. Joined together, Rose Quartz and Serenity demonstrate an inherent balance between a warmer embracing rose tone and the cooler tranquil blue, reflecting connection and wellness as well as a soothing sense of order and peace.
In a webinar presented by Laurie Pressman, VP of the Pantone Color Institute, she expressed the means by which Pantone chooses the annual color release. "These colors are emotionally reflective of a social mindset," explained Pressman during the webinar. "They truly are reflective of the tranquility and inner peace that consumers are looking for."
While Personalized Ribbons doesn't specifically take part in Pantone's yearly celebration of the Pantone Color of the Year release, we do accept its importance.
However, as a custom ribbon provider, Personalized Ribbons is limited to how these colors might be expressed. While one simply cannot buy ribbons in Serenity or Rose Quartz, there are still several options to incorporate them into an order.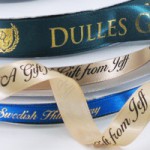 Single face satin ribbon can be ordered in Quartz, but it is not a guaranteed color match to Rose Quartz; it is, however, close. But there is no close match for Serenity. Personalized Ribbons does offer several blues that will compliment Quartz.
There are several other ribbon roll options for quartz, including organza. Full color ribbon may also be personalized to a PMS color for either color or to include a logo or custom text. Badge ribbons can also be purchased using full color printing.
Here is a side note for color matching:
Pantone Matching System (PMS) colors are the best way to let us know what colors are expected. Personalized Ribbons will make reasonable efforts to match provided PMS colors. However, due to variations in materials, printer ribbons, equipment, and environmental factors preclude any guarantee of color. The color of imprinted logos and surfaces are also limited to available materials.