By wrapping your gifts with custom ribbons, you stay connected to the people who matter most.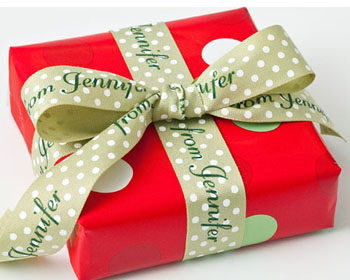 Gift giving is one of the best ways to stay socially connected because you can do it from anywhere. No matter how far you are from the recipient, sending them a beautifully wrapped gift makes you feel closer together.
To form a deeper social connection between you and the recipient, wrap your gift using Custom Ribbon Rolls. Made of high-quality material, these ribbons let you share a unique message with the other person. Adding this personal touch shows the recipient how much they mean to you. As you use custom ribbons to make them feel special, your relationship with them will become stronger.
Why does social connection matter?
There are so many benefits to strengthening your social connections. Scientific studies have found that connecting with others not only makes you happier, but it also helps you live longer. It reduced stress levels, which in turn improves your immune system and general well-being. If you want to receive these health benefits, then making a greater effort to deepen your relationships is key.
On top of health benefits, social connections also help you reach your professional goals. By building relationships with people at work and in your community, you form a strong network of people who trust your abilities and are willing to support your business.
Now that you know the benefits of social connection, here is how you use custom ribbons to connect with the people in your life.
Connect with Your Co-workers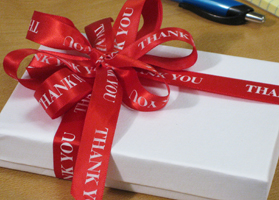 Use custom ribbons to build a strong relationship with each of your team members. Surprise them with a quality gift, wrapped up in a pretty ribbon that reads, Great job! or Thanks for Your Hard Work. Make sure to also send a wrapped gift to your colleagues who work from home. As you express appreciation for what your co-workers do for the company, you will form a closer connection with them and work better as a team. Your recognition will also motivate them to continue to put in their best effort.
Connect with Your Clients
When it comes to building a relationship with your clients, nothing works better than custom ribbons. Add your company name and logo so your clients will always remember who gave them such a generous gift. Or, personalize ribbon rolls with a short message to thank your clients for their business. As you use custom ribbons to make your clients feel valued, you will gain their trust and increase your brand loyalty.
Connect with Your Friends and Family
Show love for friends and family by adorning your gifts with customized ribbons. Create ribbons to use all year round with endearing messages such as Sending You My Love or With You Always. To be prepared for special occasions, get ribbons for graduations, weddings and other milestones. And, don't forget to customize holiday ribbons with the colors and graphics of your choice. With your unique design on quality fabric, your loved ones will know how much you care.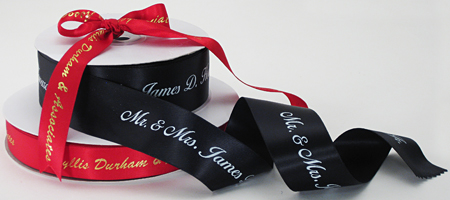 Stay Connected Using Custom Ribbons
If you want a closer connection to the people in your life, customize ribbons for all your gift giving needs. They make your gifts personable by sharing your unique design. And they are tons of fun! Choose from different ribbon materials and customize the color, font and more all in one place. With continuous print ribbons for gift wrapping and favor print ribbons for bows, you won't be disappointed in our product selection.
What other ways can ribbons help you connect with people? Tell us in a comment.