Even though many pageants won't start for a month or two, now is the time to get all of your pageant ribbons! Getting your orders in now will ensure that you have all of your ribbon needs before your pageant even starts.
Now, maybe your future event isn't a traditional beauty pageant featuring all women. Perhaps it is even more of a fair or festival. It doesn't matter which type of pageant you are hosting, it still needs ribbons. But, what you do need to remember is that some of these custom ribbons take a while to make and ship.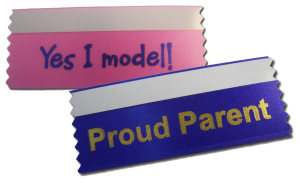 Award ribbons can be a flat piece of ribbon, such as our prize ribbons, or a fancier use of a ribbon material, such as a rosette. Every award ribbon can be presented as a mark of recognition to honor recipients for their accomplishments. Award ribbons also come in all shapes and sizes. So, let's go over all of our award ribbons and get you started down the right path toward your pageant ribbons needs.
Making Rosettes Work for Your Pageant Ribbons
From adorning pageant sashes to giving them as awards, rosettes have a definite place at your event. Whether they are large or small, each rosette should be chosen specifically for how they will be used and who will receive them. If you need an award ribbon, make sure your prize suits your champion.
For a beauty pageant, you may want one of our larger ribbons like an Amesbury Rosette. With its multiple colors and beautiful pleats and tucks, this ribbon will suit your prize winning beauty. And, if your pageant has a theme, you can customize the center button to match. Add personalized text to the front streamer, and your winner is sure to know how much you admire them.
Pro Tip: Use rosettes to number all of your contestants with pretty pageant ribbons!
But, don't underestimate our stock rosettes. Some events need pageant ribbons for everyone in attendance, especially when it's an event for teens or children. We have colors and award names for everyone involved in your pageant (even a participation award).
Check Out These Prize Ribbons
Even our stock options for flat prize ribbons will make your pageant entries swoon! From our brightly full-colored place ribbons to the pretty imprinted victory torch, each ribbon will be happily received. Use these simple ribbons to include everyone and make sure they know you appreciate their hard work.
And, these ribbons are a blast to collect. Each pageant participant will be excited to return every year for a new award to add to their hoard. Even give these ribbons to parents and anyone else who supports the pageant and the participants. Make sure everyone is recognized and thanked for their help in making your pageant the best.
Looking for something more custom but still just as simple? Check out our custom top ribbon selection. All of these ribbons are available with full-color printing so you can add anything you need. From text to graphics, these are the perfect answer to quick and great looking pageant ribbons. And, most of these ribbons come with record cards to personalize for the winner.
And, don't forget the ribbon rolls!
Full-color ribbons come in your choice of size (up to three, four or six inches), so they make the perfect sash for your next winner and attendees. Simply provide the design you want to see for all of your sashes, and we'll give you the highest quality ribbons that will make your contestants shine.
Once you have your pageant sashes, add some flair with a rosette for the winners. Choose from many styles to fit the many different participants. Customize each rosette and attach them to sashes at the bottom, or pin them onto the contestant for added flair.
Other ribbon roll tips for pageant ribbons: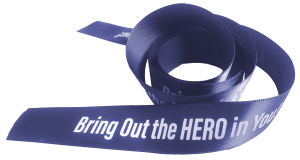 These sashes can also come in handy for identifying parents and other VIPs during your event.
Use the ribbon rolls for decorations during your event as well. All pageant goers will be excited to see your creativity and the glamour that only ribbons can provide.
No matter what your custom or stock ribbon needs are, we are your go-to pageant ribbons headquarters. So, get your ribbons today and make your future event stand out. And, your winners and participants will keep coming back for more.