From name plates to fruit baskets, personalized ribbons make corporate gifts better!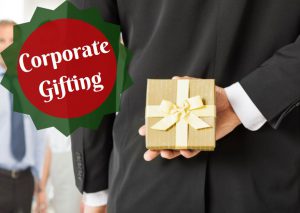 Whether you want to admit it or not, the holidays are coming! Now is the time to start thinking about your ever-so-important corporate gifts. But, remember to keep us in mind after you have chosen that perfect trinket, gadget or gizmo.
Our personalized ribbons are perfect for decorating baskets, wrapping gifts, and tying a pretty little bow. Customize each ribbon roll with names, dates, logos and more so that your recipients know just who to thank for that wonderful gift.
Create a thoughtful piece with the perfect ribbon. From gift baskets with your company logo and product colors to small wrapped boxes with someone's name, each of our custom ribbon rolls is sure to be a hit for your next gift.
And who doesn't love a gift?
Why not treat your employees with something special this year. Create unique tags and adornments with badge and classic ribbons. From full-color to single imprinted colors, each ribbon is sure to conjure up the spirit of the holidays. And, they don't get thrown away like a simple paper tag would. People often use these ribbon tags for bookmarks or decorations on their cubicle wall at work.
There are many reasons for corporate gifting that range from thanking consumers for their business to recognizing employees for outstanding work. But, the primary reason seems always to be the same. It is to sustain relationships and deepen the personal connection between the giver and the recipient.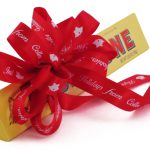 Company branding is important to remember as you are giving your corporate gifts. Not only does it help maintain the relationship you have already worked so hard to establish, but it also helps the recipient to remember who gave them such an enjoyable and memorable gift.
Maybe your gift this year is personalized ribbons?
Have you ever thought of designing a logo or slogan to print on a ribbon or ribbon roll and then give those as your corporate gifts? What a unique idea that everyone can use! Create a one-of-a-kind ribbon that will be useful to everyone.
But, no matter your ribbon choice, think of your recipients and what they want. They have to like the gift for it to be memorable.
P.S. We suggest these every year, not because we make them, but because they do make a great gift. Recognize each employee for a job well done this year with a personalized desk wedge! Acrylic name plates are also a great idea for that someone special.