Starting a business is hard work, and having business success requires sacrifices. But, many business owners don't talk about what you need to keep that success going. This journey to greatness starts with you, the business owner.
While ribbons may not be the answer to every question along the way to success, they will play a key role in many ways. So, make sure to keep these ribbons on hand at all times so they are available to help you when you need them.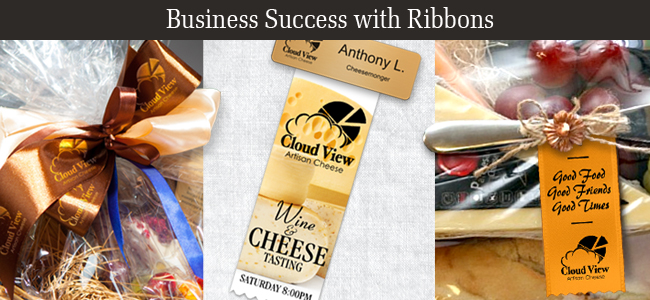 1) Product Packaging for Business Success
Branded ribbons are a great way to help customers trust your business. Adding a company logo and slogan to ribbon rolls or badge ribbons is a great way to help others recognize your brand. Now that you have these ribbons, you can add them to name tags, products in your store and goody bags that are handed out at conventions and other events.
All other custom ribbons are also here to help your business succeed. No matter your choice, make sure your color, imprint and logo are consistent with your established brand. By adding these ribbons to things that will get passed around (think promotional products or samples), word of mouth advertising will start to work in your favor. Once this happens, potential clients and customers will start recognizing your brand.
2) Customer Retention
A popular way of promoting your brand is to give away promotional products and gifts. This can help you to build your brand recognition and increase sales. Don't limit yourself on the types of gifts you give away. It can be something as simple as a homemade treat to an actual product sample. Just remember to brand it with your logo, company slogan or something that makes it truly yours. Use ribbon rolls with your slogan to wrap around boxes or gift bags.
Remember that visibility is key to customer retention. By using custom ribbons around your store or office, you are sure to find business success. Customers and clients will start to recognize your brand, and when they need what you offer, you will be at the top of their mind.
3) Employee Appreciation
A happy employee is a helpful one. So, keep your crew happy and you'll get even more word of mouth advertising. And, by giving to your employees (whether it's gifts or money), you will get something back.
When you give a gift to your employees, wrap it with care and a little bit of branded ribbon. Use badge ribbons with custom statements declaring your appreciation for a job well done. Or, use ribbon rolls with your logo and the text "Thank You" to show your employees just how much you care.
Ribbons Lead to Business Success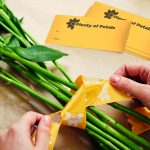 From color to content, ribbons are a versatile tool that will help anyone with branding their business. However, by customizing badge ribbons to ribbon rolls, you're giving your brand greater strength. From store sales to getting-to-know-you corporate retreats, ribbons are a perfect way to include those around you that may not know everything they should about your company.
Most of our personalized ribbons can be printed with a company logo and each ribbon has its own value. Ribbon rolls are great for corporate gifting and event decoration. Use badge ribbons only on badge holders and name tags, but also for awards, bookmarks and other recognition pieces. Rosette ribbons are commonly used as awards and also to highlight accomplishments in an office or business setting.
Find business success with imprinted, personalized ribbons. Add a logo and company name for brand recognition. And, most importantly, use each ribbon type in a variety of ways! Learn even more by reading Business Success and Taking Small Steps.