Like many of our customers, you may have wondered how custom ribbons can improve your networking strategy. After all, what do ribbons have to do with such an essential part of your career? The answer: everything. Ribbons bring awareness to your brand like nothing else thanks to their bold colors and high-quality printing. Using them to catch people's attention gives you valuable opportunities to make a great first impression. Custom ribbons are also incredibly versatile, which means you can use them to accomplish almost any networking goal. Whether you are looking for a better job or the ideal candidate for a position, custom ribbons will make it happen.
From getting clients to landing your dream job, custom ribbons improve your networking strategy.
To show you how to perfect your networking strategy, we have answered four frequently asked questions about our custom ribbons.
Question: What should I include on ribbon rolls for my business?
Answer: That depends on whether your goal is to increase brand recognition or strengthen business relationships.
If you want to increase your brand recognition, customize ribbon rolls with your company name, logo or both. This will expand your brand's visibility as you use these ribbons to wrap best selling products and giveaways.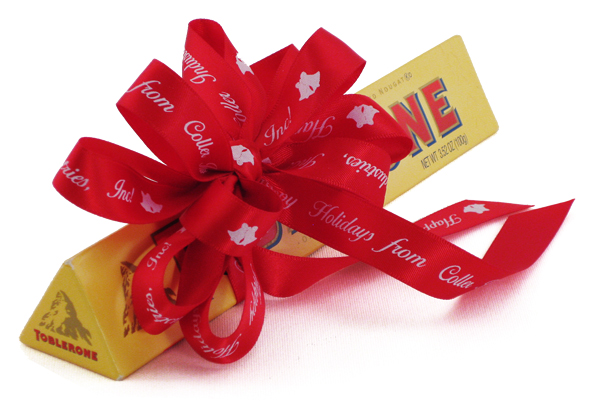 To strengthen business relationships, add a personal message to your ribbon rolls to congratulate the recipient or wish them well. Then, use these ribbons to wrap corporate gifts for potential clients and business partners. Adding this personal touch to your gifts will show each associate that you value your relationship with them. As you nurture your relationships with personalized ribbons, you will grow your business by gaining new clients and forming new partnerships.
Question: How can custom ribbons be used as handouts?
Answer: Turn Custom Top Ribbons into eye-catching handouts by adding information about your company, products and services.
To recruit talented employees, personalize Custom Top Ribbons with full-color text and graphics that highlight the benefits of working for your company. Pass these ribbons out at job fairs or mail them as part of recruitment packets to attract your ideal candidates. Everyone will be so impressed with your ribbon handouts that they will hold onto them long after receiving them. The longer they have them, the more likely they will apply for the jobs you need to fill.
You can also use Custom Top Ribbons to create promotional handouts for conferences, trade shows and direct mail marketing. Add text and graphics that educate people on the value of your brand. Or, turn your ribbon handouts into coupons. However you choose to attract new clients, you can be sure the full-color printing on these custom ribbons will grab people's attention and grow your clientele.
Question: Why should I wear a badge ribbon with my name tag?
Answer: Badge ribbons allow you to share more information about yourself and set you apart from other professionals.
At job fairs (virtual or otherwise), use badge ribbons to convince employers to hire you. First, customize badge ribbons with short descriptions of the skills and experiences that make you the perfect candidate. Then, attach the ribbons to your name tag so they are easily visible. Not only will wearing badge ribbons make you memorable, but it will also show recruiters that you qualify for the job before they even see your resume.
Pro Tip: To get the most professional look, use a 3.5 inch horizontal badge ribbon on a 3.5 inch name tag. Or, place two vertical 1.625 inch ribbons on a 3.5 inch name tag.
Question: What can I use blank ribbons for?
Answer: Use Blank Ribbons to spark conversations at networking events and get insights for your business.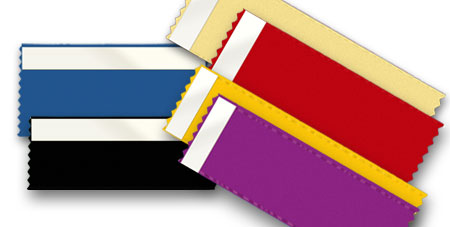 Add questions to your Blank Ribbons using a marker. Then, attach the ribbons to your clothing or name tag so they are easily visible. As you wear these ribbons at networking events (virtual or live), you will gain valuable insight into how to improve your business. You will also form new business relationships that may lead to future opportunities for you and your company.
While you can use custom imprinted badge ribbons the same way, keep in mind that the questions you want to ask your peers may change over time. Therefore, it is much easier and more affordable to order blank ribbons and add text when you need it.
Perfect Your Networking Strategy
Let us help you improve your networking strategy by asking your own questions in one of three ways.
1. Join us on July 22, 2020, at 11:30 a.m. (Mountain time) for our first ever Live Video Q&A Event.
2. Comment directly on this blog post, and one of our experts will respond within one business day (Monday through Friday).
3. Contact customer service at 1-801-931-5000, and one of our representatives will be happy to assist you. (Our office hours are Monday through Friday, 7 a.m. to 5 p.m.)
By sharing your questions with us, you will learn how to achieve your networking goals with the quality and versatility of custom ribbons.
Other Question and Answer Blogs:

Week One: How to Use Identification

Week Three: Q&A: Your Name Tag Investment