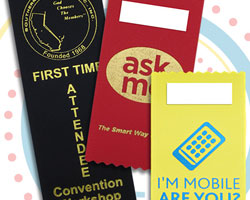 Using the right ribbon makes all the difference for your business meetings and fundraisers. Regardless of the event planned, badge ribbons are the perfect accessory. From simple decorations and place settings to helping organize event staff, these identification tools are there to help every business. Use colorful badge ribbons to label the buffet or use them to coordinate different aspects of your next company meeting. Or choose a color that best suits your elected charity for fundraising efforts.
But, first thing first, let's start with the question, "What is a badge ribbon?"
Badge ribbons are flat pieces of ribbon that can be either attached to a name badge or used as other promotional materials. Order badge ribbons as custom or stock titles as both have their benefits. They come with imprinted text that identify speakers, staff and an assortment of other people during your meetings and fundraisers. These ribbons continually prove to be valuable networking and marketing tools and are great for brand recognition.
Now that we have that straightened out (pun intended), let's cover why your business needs badge ribbons. These ribbons help identify roles and rewards or break the ice when attached to a name badge. They are perfect for meetings, fundraisers and every other event where name tags are present.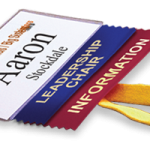 So, why do people wear badge ribbons? The most popular reason people wear ribbons is to identify specific titles or traits they might possess. They are also worn to market someone for their job responsibilities. Or, wear a badge ribbon with a silly message or word for a convention. With custom ribbons, text can be created to send any message the wearer wants.
How To Make Badge Ribbons Work for Your Business
From small company meetings to large public fundraisers, badge ribbons do more work than you know. And they don't just have to be a name badge accessory. These ribbons are worth so much more than just a quick identifying tool. Use them for everything from seating arrangements to silly alternatives to a name tag to fun decorations at any event.
Use badge ribbons at any event. Conventions, meetings and conferences are a few of the places where you can find badge ribbons. But have you ever thought of using them for fundraisers, fancy parties and other such events? Their uses are truly endless!
Support your cause and give out recognition for your fundraiser.

Show support for your cause or charity with specific colors, like pink for a cancer event. Or, use these tools as placement awards for any games or contests going on during your event. Each winner will want to wear their award with pride while they enjoy your event and all that it has to offer.

Raffles can be one of the highlights at any big event. Add a fun twist by having people write their names on blank badge ribbons instead of using paper raffle tickets. Even use these blank ribbons to label the prizes for your raffle.
But, enough with the identification! Try these other fun uses for badge ribbons for your business.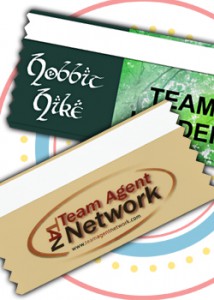 With custom badge ribbons that are easy to order, the titles and text are nearly limitless. Choose a color that best suits your need, and add text and logos or graphics that will make your business ribbons stand out at your next fundraiser. Or, get full color ribbons with images representing a charity for which you are raising money or goods.
From company meetings to summer work parties, another great use for these badge ribbons is party games. Use the different colors for different games or organization during your business festivities. Design your own game using badge ribbons and either focus on the colors or use the imprinted titles or text for party favors and game pieces.
So, you have the perfect logo and the ideal personalization, but do you know what badge ribbon type you need to buy? While we do have an idea gallery available for several ideas, sometimes you just need to know which type of ribbon is best for what kind of project you have.
With so many options available (stock and custom titles, full-color, graphic ribbons), we guarantee to have something that will fit your budget and needs. And, each of these badge ribbons is easy to use with an adhesive strip on the front of each ribbon. Simply attach a ribbon to a name badge or place them with your table settings at your next fundraiser event.
But, no matter which badge ribbon you choose, remember that your business will stand out from your competition with continued use of these fun and fantastic ribbons!