From brand exposure to product promotion, donations benefit our company in many ways. But the joy we get from them does not come from those benefits. It comes from knowing we have helped others in some way. Here at Coller Industries Incorporated, we take our responsibility to the community seriously. So, we are always looking for donation opportunities. Recently, we had the privilege of giving back to our local community here in Salt Lake County, Utah. Give a big cheer to our latest donation recipient: The Panthers Special Olympics Utah Team.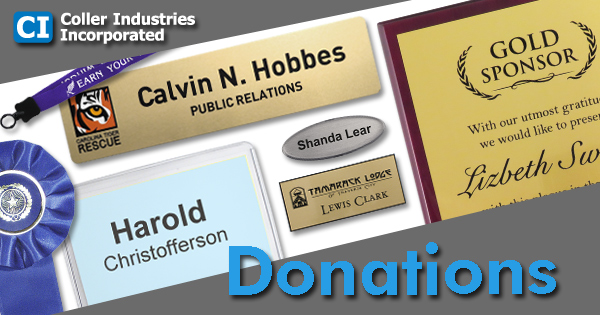 A Special Olympics team pays tribute to their coach a month after her passing.
The mission of Special Olympics is to provide year-round sports training and athletic competition in a variety of Olympic-type sports for children and adults with intellectual disabilities, giving them continuing opportunities to develop physical fitness, demonstrate courage, experience joy and participate in a sharing of gifts, skills and friendship with their families, other Special Olympics athletes and the community.
Vertical Graphic Ribbons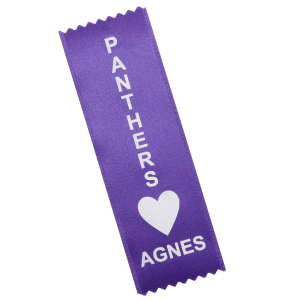 Made of quality satin, Vertical Graphic Ribbons are a popular choice for fundraisers, conventions and trade shows. While they are often used to promote products, services or sales, graphic ribbons can serve almost any purpose. And, they let you add a graphic or logo to go with your text. Customize the size, font, imprint and material colors to make these ribbons right for you. With different fastener options available, attach the ribbons to a piece of clothing or wear them with a name tag.
We donated 500 Vertical Graphic Ribbons to help the Panthers pay tribute to their former coach, Agnes Marino. A long time volunteer, she passed away September 17, 2019. Keith Tondro, an Assistant Equipment Manager for Special Olympics, spoke highly of Marino. "She gave many years of service and has been an icon for Special Olympics. These ribbons will be worn by the athletes as they compete in the Fall Sports Classic on October 18 and 19, 2019 in golf, bocce and soccer."
The athletes wore purple badge ribbons to honor their coach as they competed in different locations in Salt Lake City, Utah. The ribbons included a heart with the name of their team and former coach. With the memory of Marino in their hearts, they played bocce ball at Northwest Middle School, golf at Rose Park Golf Course and soccer at Salt Lake Regional Athletic Complex. They did Marino proud by placing third in soccer, even while playing in stormy weather. Tondro said, "The Panthers fought hard and played well."
Tondro, whose son, Darrell Tondro, is on the Panthers team, describes how Special Olympics benefits people with disabilities.
"Developing skills, building self-esteem and having fun, all while participating in year-round sports training and competition, is the life of a Special Olympics Utah athlete. Whatever their skill level, with eight sports to choose from, plus the Motor Activities Training Program (MATP), Special Olympics Utah has something for every person with an intellectual disability."
No matter what product we donate, it is always a privilege to support organizations like Special Olympics. And this time, we got to help pay tribute to a woman who, like us, wanted to give back to the community. For us, giving back through donations is a way of saying thank you to those who make our company successful. After all, where would we be without the people in this community, our customers. So, thank you Special Olympics Utah for letting us serve you and your remarkable athletes. Go Panthers!