A corporate gift is something businesses give to show appreciation for the people they work with on a regular basis. When a company shows gratitude for its associates, it strengthens its connections, which secures future business opportunities. The trick is putting money toward the right corporate gifts. The better the gift choice, the more a business gains from its investment. Here are some guidelines to help your company shop smart and get the most from its corporate gifting strategy.
Selecting the right corporate gifts for your …
… Clients
The purpose of giving gifts to your company's clients is to gain their trust and improve brand image. To accomplish these goals, choose corporate gifts that reflect the quality your company wants clients to associate with its brand identity. Make sure they are durable and come with a satisfaction guarantee so your company knows its clients are getting something worthwhile.
You also want to show that your company values its clients as people. To do this, give each client a gift that matches their hobbies and interests. For instance if one client likes to play sports, buy them a duffel bag for sporting gear. Another option is to give them a personalized gift, such as a desk wedge with their name on it. By adding this personal touch to corporate gifting, your clients will feel connected to your company and continue doing business with you.
… Employees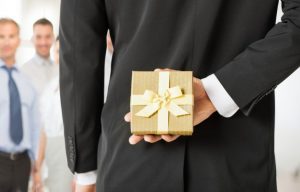 Retain your company's talented employees by giving them meaningful corporate gifts. By showing gratitude for their hard work and dedication, employees become loyal and motivated them to do their best. Express appreciation by giving them gifts that make their jobs more enjoyable. Examples include an indoor plant to have at their desk (assuming they don't have allergies) and noise canceling headphones to help them stay focused.
As with clients, employees want to know they are valued as individuals. Make their corporate gifts personable by wrapping them in personalized ribbons and presenting them with handwritten notes. Another way to make these gifts personable is to let employees choose what they want. Give them different options, such as a baseball cap, t-shirt or jacket. By giving them the chance to pick their gift, employees will know your company respects what makes them unique.
Pro Tip: Make sure all your employee's gifts have the same monetary value so no one feels excluded.
… Suppliers
Before your company buys the right corporate gifts for its suppliers, make sure the suppliers are allowed to accept gifts. If they are, then definitely include them in your company's corporate gifting strategy. Suppliers provide the tools and equipment your company needs, so building a good relationship with them is key to business success. Show gratitude for their help by giving them useful gifts, such as coffee mugs, earbuds and umbrellas. Find that happy medium where the gifts are good quality but not too expensive. This prevents suppliers from feeling they need to give your company something in return.
Don't forget your ribbons!
When people receive a beautifully wrapped gift, it tells them your company is committed to excellence. So gain the trust of clients, employees and suppliers by wrapping the right corporate gifts in high-quality custom ribbons. Add a personal message to these fine ribbon rolls and choose a color that goes with the gifts or matches your company's logo. Include icons or graphics to enhance your company's message and make the ribbons more visually exciting. As your company invests in first-rate gift wrapping ribbons, people will feel appreciated and want to continue working with your business.
What's the best corporate gift you've received? Tell us in a comment below.