A simple how to list for personalized ribbon ideas during the holidays.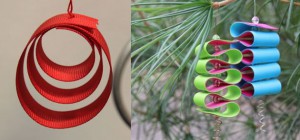 ORNAMENTS CREATED FROM RIBBON ROLLS
All you need is a roll of ribbon and some imagination to work with these ribbon ideas! Wind your ribbon roll into small circles and secure with a pin. Or, fold them sections on top of each other to create ribbon candy. Make small Christmas trees or other shapes; securing each with a pin or a staple. Hang these from your Christmas tree with more ribbon or a paper clip.
ROSETTE RIBBON BOWS ON WREATHS
What a great ribbon idea! Use that award rosette ribbon this year on your holiday wreath. Simply secure it in place of the traditional bow to add your own personal flair to your door or mantel.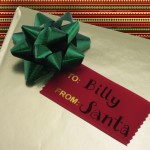 TO/FROM TAGS FROM BADGE RIBBONS
We've covered this one before, but it's such a great idea that we're mentioning it again! Use badge ribbons with the message "To" and "From" imprinted. Simply fill in the names with a permanent marker and attach them to the respective presents with tape.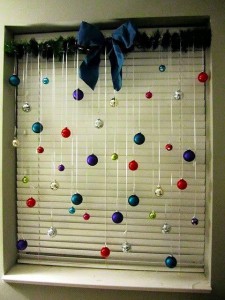 HANGING DECORATIONS FROM WINDOWS
Make pretty and inviting decorations in your windows by hanging decorations and ornaments with ribbon rolls in your windows. Make sure to taper them to create a unique and fun look! Add tinsel or greenery to your display and finish off with a large hand-made bow. This is a great idea for those smaller windows that need that extra little touch.
TABLE SETTINGS USING RIBBON ROLLS
Hosting Christmas dinner and need to make the table look extra special? Personalized ribbon rolls are a great way to accomplish this task. Wrap the silverware or napkins at each setting in holiday ribbon and bring your unique style to the table. Or use the personalized ribbon to tie around the centerpieces. There are many different ideas here!
Whatever your use this year, make personalized ribbons a part of your life!
And, from all of us here at Coller Industries, we wish you a very merry Christmas!