Make your corporate packaging just as unique as the gift itself with ribbon gift tags!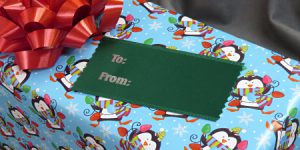 Presentation is everything, right? Well, whether it's a company brand or a personal style, custom ribbons are sure to make the best impression. From ribbon rolls to rosette ribbons, any ribbon choice is sure to impress. And, these custom ribbon gift tags are no exception.
Choose a festive holiday color or a company specific color. And then tell us what you want!
From personalized messages to adding names and titles, these ribbons are easy to customize. Unique gifts and wrapping keep your name in the recipient's mind, so why not make it personalized? The best presents are heartfelt and show it. Custom wrapping helps to convey your intentions and sincerity to the recipient.
While paper tags are likely to be thrown away, these unique ribbon gift tags are sure to be treasured for a long time. Some recipients may even use them as bookmarks or display them on office and cubicle walls as holiday decorations. And, as they upgrade a package from drab to classy, these ribbons are a great way to show off your unique brand.
Use holiday badge ribbons as your "TO/FROM" tags for all those colorful presents sitting under the Christmas tree. Customize each ribbon in several different colors and then imprinted with the simple text of "TO" and "FROM." Merely tape these beautiful tags to your presents and use a permanent marker to give the recipient a unique identifier.
Exchanging secret Santa gifts?
These tags are perfect for office parties for these gifts. Instead of the "TO/FROM" message, use a unique phrase or just the name Santa on your tags. Or, include your company logo or another holiday image such as a snowman, Christmas tree or reindeer, something that is sure to make your colleagues smile.
Badge ribbons aren't just for name badges and badge holders anymore! Whatever you use your festive and holiday badge ribbons for, make sure they represent you and your style. Give it your flair and be as creative as you want! Remember that each ribbon needs to be great at drawing attention to a present or anything else it is attached to.