From big bows to small wrapping accents, holiday ribbons are perfect for everyone's home!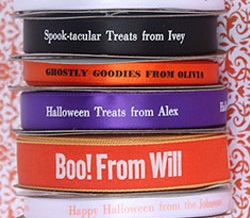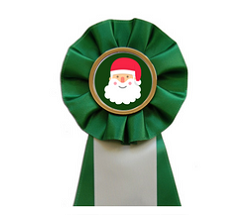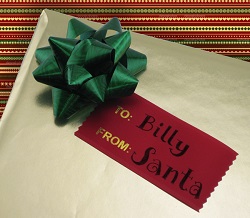 1) Make holiday ribbons into gift cards.
2) Fancy up a greeting card.
3) Make any size of gift bows.
4) Fashion ribbon wreaths.
5) Decorate a wreath with colorful ribbons.
6) Make name tags for presents.
7) Personalize advent calendars or counting chains.
8) Ribbon chains are also perfect for decorating any home.
9) Use ribbons as gift wrap.
10) Make Christmas tree ornaments entirely from ribbons.
11) Hang ornaments with ribbons.
12) Decorate your Christmas tree with fun, custom ribbons.
13) Tie bows into your tree.
14) Custom ribbons can make a fun tree topper.
15) Use as fireplace or mantel decorations.
16) Ribbons are great for party favor ties and bows.
17) Make your front door or garage door fancy.
18) Ribbons are perfect to hang cards from.
19) Fashion elegant curtain ties.
20) Use as candle accents for votive or pillar candles.
21) Make homemade snowflakes.
22) Tie around homemade goodies for gifts.
23) Perfect for tying a bow on mason jar gifts.
24) Also great for adding holiday cheer to candy or cookie jars.
25) Make holiday shapes on windows or walls.
Nope, that isn't all we have! Here are 25 more!
26) Make a Christmas tree.
27) Ribbons make festive and creative bookmarks.
28) Wrap your favorite festive flowers with custom ribbons.
29) Or just craft your flowers with ribbon rolls.
30) Hair ribbons are fun with festive, colorful ribbons.
31) Ribbon jewelry is always fun, especially with holiday ribbons.
32) Make ribbon pins or other fun craft accent pieces.
33) Fashion balloon ties for your next party.
34) Decorate a fun, shaped cake at a party.
35) Wrap indoor and outdoor pillars with custom ribbons for any holiday.
36) Decorate with unique ribbon curtains.
37) Send out party invitations with ribbon embellishments.
38) Personalized holiday ribbons are perfect for scrapbooks and smash books.
39) Photo embellishments pop with festive ribbons.
40) Use ribbons to decorate your yard for any festivity.
41) Color ribbons are great for hanging decorations or pictures.
42) Tie ribbons around vases for accents.
43) Use them for place settings.
44) Custom ribbons are also great for napkin rings.
45) Use a small ribbon as a glass tag, so you know which one is yours.
46) Mix in a colorful and festive bunch of ribbons on your next table centerpiece.
47) Make ribbon wands for all the kids, or young at heart.
48) Rosette ribbons are great for party game prizes.
49) Accent a pillow with a holiday colored ribbon.
50) Or add it to a tablecloth for some extra holiday cheer.
From Halloween to Christmas and even New Years to Valentine's Day, colors, dates and other messages are the most important part. So, no matter how you choose to use your custom holiday ribbons, make sure they have the right words.