Making holiday crafts with ribbons is a quickly learned skill for any hobbyist.
Ribbons are a crafter's and hobbyist's most versatile and fundamental tool. Especially for holiday crafts. And using creative ribbons during any holiday is sure to turn up not only the fun but the uniqueness of anyone's decor. So, choose your favorite ribbon, from rolls and badges to rosettes and more, and let's get started!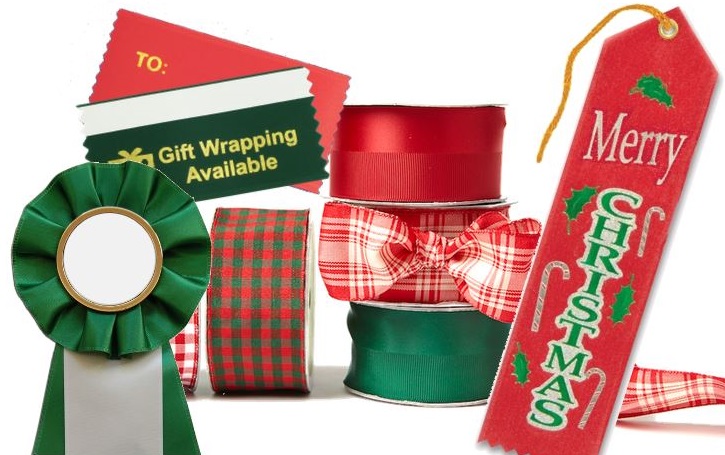 Jewelry
Holiday ribbon bracelets are easy to make in all different colors and styles. Use a length of ribbon roll and glue colorful and festive rhinestones on it. Once the glue dries, wrap the ribbon around your wrist and tie it in a pretty bow. Or, braid three of your favorite holiday ribbons and make it into a friendship bracelet. Buttons and ribbons are also great for creating a unique holiday bracelet!
And beads! Don't forget the beads! Thread festive holiday beads onto your favorite ribbon to make a bracelet or necklace any length you want. Add fun charms to add a distinctive element to your holiday jewelry.
Ornaments
Does your family make a new Christmas tree ornament each year? From filling a clear, plastic ball with colorful ribbons to forming ribbons into festive shapes, every tree should be full of fun, new ribbon ornaments. Use any ornament technique with any of your holiday crafts this year for a unique way of decorating.
Table Decorations
From table runners to candlestick holders, ribbon rolls are a fun and exciting way to liven up your holiday tables! Add ribbon to an old, over-used tablecloth to transform it into your newest favorite holiday decoration. Fold a tablecloth to fit on a side table or a mantle and tie a ribbon around each end to hold it in place. Or, use festive ribbon rolls to decorate holiday place settings or centerpieces.
Door Wreaths
From ribbon scraps to flowing ribbon rolls, holiday wreaths are perfect for front doors and inside decorations! Pump up the volume on an old, worn out wreath. Colorful and festive ribbons are sure to breathe new life into your old decorations. Or, make a new wreath out of ribbon rolls and a Styrofoam ring. Just tie the rolls into any pattern your heart desires, and you're all set to display your festiveness on your front door.
Gift Wrapping
Using ribbon rolls around boxes is just the start of this fun wrapping alternative! Think outside the box on this one. Wrap a festive bow around a mason jar full of cookie or brownie makings. Have an oddly shaped gift? Use ribbons around the neck of a bottle or a fun, unique ribbon gift tag instead of attempting to wrap paper around something.
Feeling inspired yet? Get all the ribbons you need for your all of your holiday crafts and decorating projects here!