From product packaging to corporate gifting, weave your brand with custom ribbon.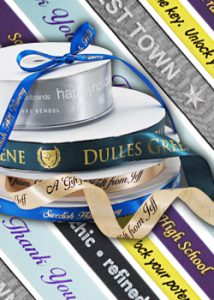 Branding goes beyond what your company uniform is. It isn't all about signage and how your office incorporates feng shui. As author Tim Leberecht said, "Your brand is what other people say about you when you aren't in the room." It is imperative that you weave your brand into everything.
Many small and large businesses are continually working on their branding. And what a better way to focus on your branding goals than to weave in some custom ribbon. While ribbon isn't always the answer, it sure helps get the word out about who you are.
Leberecht explains that every brand should face the fact that they have minimal control over their reputation and, "if you're relevant, there's a constant, free-form conversation happening about you that you have no control over." As a result, a strong brand will have a tremendous impact on your company's success.
So, how do personalized ribbons help you sustain your brand?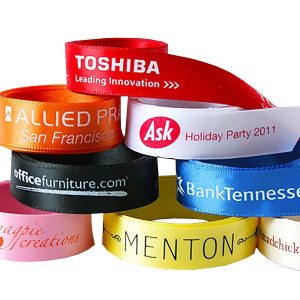 From color to content, ribbons are a versatile tool that will help anyone with branding their business. Often people overlook and simplify custom ribbons thinking that they don't have that big of an impact on anything they do. However, by customizing badge ribbons to ribbon rolls, you're giving your brand greater strength.
Don't limit yourself to conference and event ribbons. Think about all aspects ribbons can help you in. From store sales to getting-to-know-you corporate retreats, ribbons are a perfect way to include those around you that may not know everything they should about your company.
Badge ribbons attach easily to name badges, clothing and decorations anywhere to let people know what you're all about. Customize each ribbon with a message that suits your brand. Wrap ribbon rolls emblazoned with your logo around corporate gifts or office decorations.
And, don't forget to weave ribbons into those events!
"Trust is earned by predictable behavior, so this is a wonderful way to counter the abundance of choice customers face every day," said Leberecht.
Use your branding tools, such as custom ribbons, earn this trust by presenting your brand at your next event.