We've coined a new phrase: traveling ribbons! But what exactly does that mean?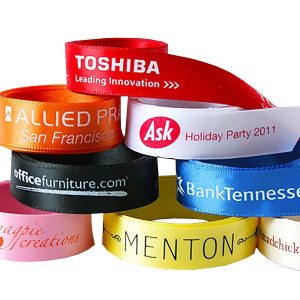 From badge ribbons to ribbon rolls and everything in between, adding personalization to ribbons helps your brand recognition. Especially when these ribbons are attached to things (products or services) that make it out of your reach. These "things" can be anything from goody bags at events to items from your storefront adorned with strips from a ribbon roll. Don't have a storefront? That's okay. Attach a small ribbon strip to a flier discussing your services and hand them out. So, there you have it: traveling ribbons!
How can traveling ribbons help you get your message into the public's hands?
That's easy! After all, the idea behind a traveling ribbon is that it travels to your customer in place of you. Remember that all ribbons aren't equal because they can't all do the same things. But, don't think that one ribbon type is better than another. Grab your nearest personalized ribbon and figure out how it can become a traveling ribbon.
Promoting Your Business
Personalized ribbon is a subtle yet powerful marketing tool. So, how do you make these traveling ribbons work for you? First, choose a ribbon color that matches your brand. Then, have us imprint your website, logo and any other text in a corresponding color. Next step, use them everywhere!
Decorate your store with them. Attach them to products you sell, either in your store or at events. You can even hand out ribbon strips during events your business is attending. Use personalized ribbon rolls to wrap products, gifts and more. And, don't forget those fliers adorned with your branded ribbons! Customers are sure to appreciate the custom touch, and then your ribbon will help them remember your business.
Hacking Personalization for Your Traveling Ribbons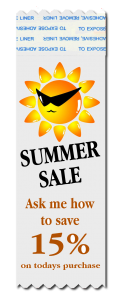 One of our favorite ways to use a badge ribbon or other flat award ribbon is as a bookmark. That way, when your customers are reading in public, others not only see the book, but they also get curious about the imprinting on the ribbon the reader is holding.
Now, when that traveling ribbon has your logo and brand imprinted on it, people will start to recognize who you are. Traveling ribbons are an effective way to drive consumers straight toward your business. But remember to keep your logo and text consistent so that your brand stands out. No matter the size of your business, traveling ribbons are here to help.
These ribbons not only help promote your brand to current customers, but they also get your brand into the hands of potential customers. By simply adding these fun and fancy adornments to treat bags at a grand opening, or tying them to products throughout your store, these ribbons are guaranteed to travel. Once a current customer uses your product, they are sure to either pass on your ribbon or use it for something else.
Even if your ribbon is taken off a treat bag and thrown haphazardly onto a desk, it is sure to attract attention. Oh, everyone will want that treat! But, more importantly, they will want to know where they can get some too. So, now your ribbon becomes that great traveling marketing item you need. So, what are you waiting for? Get your traveling ribbons today!