Ribbons and holiday bows make any gift better!
Wrap holiday bows around any gift to add fun and unique detail. From bags and boxes to cars and puppies, choosing the right bow adds a uniqueness all its own. Here are some ways to use ribbon rolls to make holiday bows for your seasonal gifting this year.
From large to small, bows should match the gift you are giving.
For example, if you are giving that special someone a car for Christmas (or any other holiday for that matter), make sure the bow size matches the size of the present. You wouldn't want to put a two-inch bow on a vehicle, as it would just get lost and therefore would not be visible. On the other end of the spectrum, if you put a two-foot bow on a small jewelry box, you won't be able to see the present.
Don't forget about the color!
Holiday bows are meant to be unique and stand out. Don't blend a green bow with a green box. Choose a ribbon color that will pop and make that gift extra special. Reds and golds are excellent holiday color combinations. Pair blues with silvers, greens with reds and even blues with reds. And, be creative! Don't limit yourself to traditional holiday colors. Think outside the box and pair pinks and browns or reds and purples!
Need a creative way to wrap a present that just doesn't want to fit in a bag or box?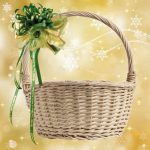 Adding fun, poofy ribbons to bottles and baskets is a great way to skimp on the wrapping; especially if you don't want to wrap oddly shaped objects. Go for a simple, dainty bow on someone's favorite brand of bubbly, or tie a giant, festive bow to a fruit or goody basket.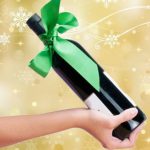 No matter your choice for holiday bows, make sure to remember the size, color and most importantly fun! Make your gifts especially unique this year with festive ribbon rolls. Still looking for that perfect gift for someone picky? Everyone likes to see their name on something, so choose a personalized desk wedge. And don't forget the ribbon!