From holiday DIYs to corporate events, ribbons are perfect for almost any need.
But, we want to know more! What do you do with your ribbons?
Are there any particular ways you use a ribbon? From ribbon rolls to rosettes, every ribbon is essential in decorating, gifting and so much more. Here are our top nine ways to use ribbons.
Conventions, Events & Festivals
No event is complete without ribbons! And events such as weddings and other parties prove that. From decorating tables to providing accessories for attendees, every event can find a use for ribbons. Use badge ribbons to identify your attendees. Or, use ribbon rolls so that everyone can show support for their cause or an awareness of a disease or issue.
Rosette ribbons are perfect for fairs and festivals. Give them out as awards and prizes. Or, use ribbon rolls to brand baked or homemade goods at a fair. A badge ribbon is a unique way to advertise a company or specific booth that needs help with marketing their product or service.
And, there are no limits with ribbon use at a convention! From identification to icebreakers and everything in between, find a ribbon to suit all of your needs.
Holidays, Presents & Sales
With Christmas and other holidays just around the corner, ribbons are sure to be seen everywhere. They will be poking out from under holiday trees wrapped around presents to make sure the receiver knows just who their gifts are from. Use a badge ribbon to make a unique gift tag.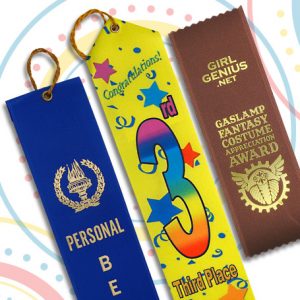 And, ribbons are frequently seen in stores as businesses prepare for holiday sales. Custom top ribbons are a perfect example. Take advantage of the full-color printing and create sales reminders and unique coupons for your business today. Or, place them around the store for hidden sale items and raffles.
Don't forget the holiday decorations! From your home to any business, a custom ribbon is the perfect answer to any decorating need. Use them on door wreaths, festive garlands and so much more!
DIY, Crafting & Hobbies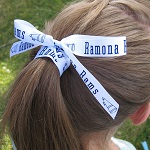 No craft or hobby is complete without a ribbon. Take long ribbon roll pieces and make garlands to hang on your wall or a beam on the ceiling. Or, wrap ribbon around flower bouquets and centerpieces to make them fit any home or store decor. And, with so many options to choose from, pick a custom ribbon to match any color theme.
Do you have extra ribbon scraps left over from your last event or celebration? Make ribbon flowers and attach them to handmade bracelets, headbands, purses, shoelaces and almost any other accessory. Everything always looks so much better with ribbon!
We're still interested in hearing from YOU! So, how do you use your ribbons?